The drone

Characteristics
Rainproof (IP65) and temperature variations (-10 ° C / 50 ° C)
6Mpix color and thermal dual lens camera 50mK
Intelligent motion detection
Guidance solution for precision landing
Accurate altimeter centimeter up to 100m height
Integrated safety parachute
Autonomy from 20 to 30 minutes
Scenarios S1, S2, S3
Patented frame
Video return range 2km and more (optional)
128-bit AES encryption
Security protocol (RTH, Fail-safe, parachute, LAND, ...)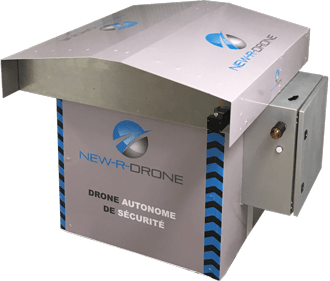 The station
Characteristics
Guidance solution for landing the drone with precision
Multi-battery charger
Automatic replacement of drone battery in less than a minute
Remote monitoring of station parameters, weather, battery status, lid position, UAV position, etc.
Meteorological station (temperature, wind, rainfall)
Resistance: IP65, temperatures: -20 ° C / 50 ° C
2 types of uses are possible
The round of automatic surveillance:
The autonomous safety drone takes off from its station (up to 1x per hour) to perform a round-robin scenario by following GPS points with for each one of them
an action to follow, then it returns to its charging station automatically. If detected by its thermal camera, it will remain hovering and warn
the guardhouse so that the agent can make a video doubt and / or challenge the intruder through the built-in speaker.
The intervention on alarm:
The drone takes off from its station on triggering the alarm of an external system to go to the place of the intrusion. The agent will be notified automatically,
can monitor the movement of the drone on its screens and will have the opportunity to challenge the intruder.